The creation of community is essential for most, but for the traditional lone photographer its importance can be overlooked. With collaboration brings the passage of skill, conversation, shared networks, financial aid, emotional support, just to name a few.  
At a time when distance is advised, we present to you groups of artists working in synergy and getting the most out of collective working. Dedicated to shedding light on the hidden, RAKE work together to present visual depictions of these powerful structures, whilst Live Wild playfully pushes the boundaries of the conventional collective. Join us virtually to hear their experiences of the collective, and to answer your questions.
---
​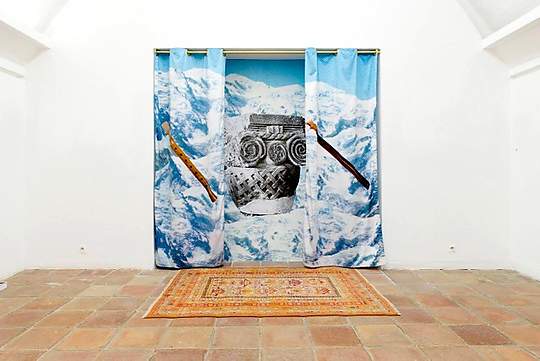 Founded in 2014, Live Wild is a collective formed by seven artists from different backgrounds: Charlotte Fos, Anna Hahoutoff, Marguerite Horay, Lucie Khahoutian, Lila Khosrovian, Camille Lévêque, and Ina Lounguine. Live Wild embraces a wide range of influences, including Dadaism, Soviet propaganda, folk art and post-Internet aesthetics. Multidisciplinary and defying categorization, the collective's practice incorporates various forms of expression like collage, photography, GIF, and video.
Live Wild's approach is rooted in ideas of memory and identity, highlighting the multicultural origins and the nonlinear path of the individuals composing the group. Following exquisite corpse logic, their production questions the artist's role and the veracity of images in a humorous manner. Their works thus combine strategies initiated by avant-garde movements with a distinctively contemporary visual language.
Image © Lucie Khahoutan, Live Wild
---
RAKE is a visual research collective using open source data to investigate a variety of unseen and obscured elements in society, business and politics. Exploring themes including human rights violations, government censorship, hidden histories, corruption, surveillance and bureaucratic violence. RAKE pushes the boundaries of traditional photography and reportage, using evolving investigation techniques to inform visual and multimedia projects and develop the interface between art, politics and the internet. 
Data and research-driven stories are at the leading edge of modern journalistic practice and RAKE consciously takes an alternative approach to that of Western mass media. Dedicated to transparency and believing that truth, however inconvenient, must be accessible and protected, RAKE brings to light the unseen through a hybrid of art and technology.  
---
Who is it for?
This event is free and open to all. It was arranged to compliment the Lightbox Online Programme but we have plenty of additional spaces available to anyone interested in collective working.
When?
Wednesday 27th January 2021, 7pm – 8:30pm.
Where?
Online! Booking will close on Wednesday 27th January at 2pm and we will then be in touch with everyone who has registered with the meeting code and password. You will need an internet connection and a computer, smartphone or tablet. This event will take place over Zoom.
Tickets
Please register for free by 2pm on Wednesday 27th January to receive your invitation to the meeting.
---
Main Image © RAKE.