Interview by Justine Marklew
Matthew Murray's career as a visual artist spans almost 30 years. His professional versatility and exceptional creativity has seen him commissioned on the strength of his personal work shooting above the line advertising campaigns for some of the world's leading advertising agencies and working alongside some of the most creative Art and Creative Directors in the business - Trevor Beattie, Graham Cappi, James Gillham, Richard Flintham, Al Moseley, David Hellqvist and Terry Jones. Murray is also commissioned and publishes personal projects in the likes of VICE, i-D Magazine, Port Magazine, FD Magazine, The Guardian, Dazed Digital, Feature Shoot.
Exhibiting personal projects at venues such as Arles Recontre Arles Festival, France, National Portrait Gallery, London, Paris Photo – Le Carrousel Du Loure, Paris, Elliott Halls Gallery, Amsterdam, Huis Marseille Amsterdam, Fotografie Museum, Berlin, Die Photographische Sammlung/SK Stiftung Kultur, Cologne -  he is also the recipient of numerous awards.
But it is in Murray's personal projects where we see the joy, commitment and intensity expressed conveying a highly charged emotional connection with his subject matter. Whether he is documenting his friends and neighbours he has known and loved for years, capturing portraiture of the Ska scene, street photography or most recently, his in-depth exploration of one of the most beautiful and foreboding British landscapes, Saddleworth Moor.
Saddleworth Moor is a landscape that is engrained in the psyche of British history for all the wrong reasons. A macabre burial ground chosen by child killers Ian Brady and Myra Hindley to conceal at least three of their victims over 50 years ago. But in Murray's recent exhibition and publication 'Saddleworth – Responding To A Landscape,' Murray has allowed us to engage with the landscape diffusing our uneasiness to its dark history and replacing it with a stunning visual narrative and a desire to absorb it's dark and dignified magnitude.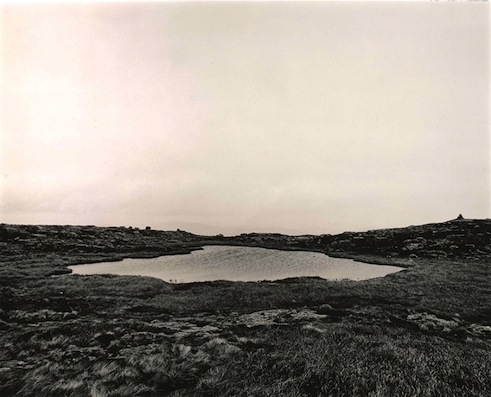 Arenig Fawr, 2018 – Split Toning Lith and Selenium
Why did you decide to start shooting landscape and why Saddleworth Moor?
I'd been invited to exhibit work at Amsterdam Unseen through Elliott Halls Gallery. Around the time I had tentatively just started making a new body of personal work on landscapes. These early photographs exhibited at Unseen became the starting point for the Saddleworth Moor series.
Originally I was interested in the dark history attributed to the Moors. To recognise such a beautiful place with such a violent history was a challenging juxtaposition which was I found interesting.
How did you choose the locations for this work from such a vast area?
Some of the locations for early photographs were areas where Hindley and Brady had taken trophy photographs of one another. This was the basis which formed the early narrative, but once I got hooked into shooting the moors through all seasons, I began to understand it's complexities and raw natural beauty.
In many of your previous projects the work is very personal – was there a personal approach to the Saddleworth Moor series?
At the time of shooting this series my father-in-law whom I was very close to, was diagnosed with Vascular Dementia and Alzheimer's. This was a very independent man I had known for 30 years. Quickly his independence disappeared. My trips to the moors became a period of reflection and photographing the landscape through how I felt rather than what I saw was a way of expressing what we as a family were going through.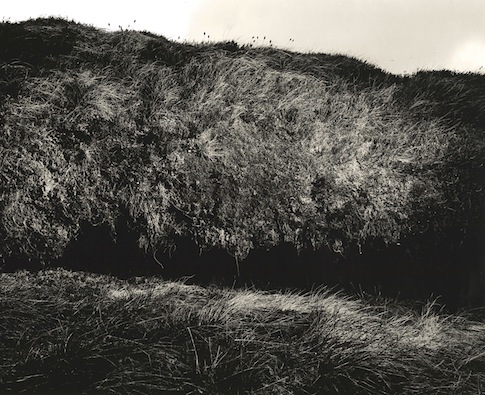 Arenig Fawr, 2018 – Split Toning Lith and Selenium
Did this trauma change the direction or have an impact on the work?
The landscape series became more than just crime scene photographs and this personal trauma became a point of departure. The work was more of a personal reflection of my father-in-law's rapid deteriorating health and the dramatic change in his personality. The work is dark and melancholic not because of Hindley and Brady but because of the helplessness I felt at the time watching my father-in-law's illness take over.
Did this personal approach inform a different methodology?
Completely. I was discovering a new methodology which informed a new visual language. Much of the work came from long walks and found landscapes – that's what was so exciting not knowing what I would find and how I adapt my methodology to interpret the landscape. My approach to photographing this series of landscapes is personal expression of how human and cultural presence is made visible.
A number of these landscapes were photographed at night, or early morning using flash lighting, manipulating and interacting with the landscape. Some of the night work was lit using car headlights external lights, torches and mobile phone lights and colour gels – experimenting with the aesthetic of the landscape and by doing so creating aesthetic and a feeling that was a true representation of how I felt.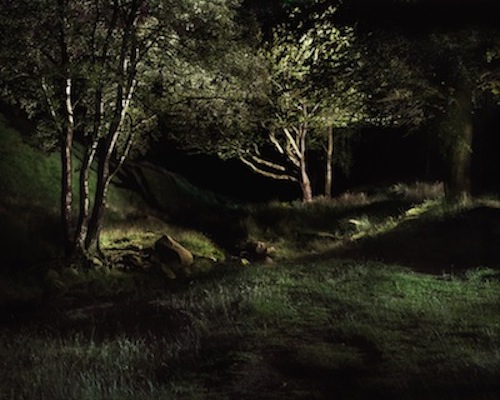 Chew Hills, Saddleworth Moor, 2016
Saddleworth: Responding To A Landscape took five years to complete what did you learn about landscape and maybe yourself?
I was very naive when I approached this series I hadn't considered the physical work involved even before a frame was taken and on top of that I wasn't interested in recreating what I saw. I had to figure out what I wanted from this landscape. What I wanted to say in the work how I would interpret what I saw. I made many mistakes in the process of making this work but these mistakes and experiments helped push the work forward.
I didn't know that phototherapy existed until after the completion of this body of work. Looking back this what this project was all about, therapy.
What are you working on currently?
I'm working on a series of landscape images photographed around Arenig Fawr in North Wales in response to the work of painters JD Innes and Augustus John who painted around this location over 100 years ago.
I've recently been awarded Arts Council of England Creative Development funding which will enable me to visit curators both in the UK and Internationally, experiment with how this new work will be conceived, help inform a new methodology and visual language.
To keep up-to-date on Matthew's work, visit his website or Instagram.
Saddleworth: Responding To A Landscape publication can be ordered directly from Beyond Words Books. Forward by Martin Barnes Senior Curator of Photographs at the V&A Museum, London, further essays from artist Richard Billingham and Maartje Van Den Heuvel, Curator Photography Special Collections Leiden University.
Headline Image: Ashway Rocks, Saddleworth Moor, 2013
Words by: Justine Marklew