The importance of the arts in our everyday lives has become even more apparent after our time spent in lockdowns. In this new series of blog posts Redeye wants to hear from photographers who take pictures for the joy of it, in particular looking at how photography can improve our wellbeing and be beneficial for our mental health. If you would like to submit your work to this series please get in touch at chat@redeye.org.uk.
Sally is a Photographer and Educator. She specialises in food photography and is interested in the prevalence and central position of food images in popular culture. Sally is a senior lecturer on the BA (Hons) Photography course at Leeds Arts University.
Could you say a little bit about your work and why you take photographs?
My personal work is mostly studio based and usually begins with the careful construction of a domestic food scene. I find the whole process therapeutic. The preparing of the food, the scene construction, the lighting and composition all require attention to detail. There's lots of tweaking things by millimetres, adding and removing garnishes and cutlery; it's slow and laborious, but incredibly calming. The moving-image work I produce is really just stop-frame animation, which is a very involved process. It can take hours to produce a short piece and it definitely requires patience! I become completely invested in the tiny world I've created and all external worries disappear. I suppose it's that 'mindful' thing of being fully present in the moment, completely absorbed in the activity, without being overwhelmed or stressed. Client-facing work can be more stressful, as there are deadlines and other people involved, but on the whole I find collaborating with others has a really motivating and inspiring effect on me and balances the inward nature of my personal work.
Where do you find your inspiration?
I take inspiration from popular visual food culture, past and present: food TV programmes, historical and contemporary cookery books, and food on social media. It's so interesting to look back at cookbooks from the 1950s and see how ludicrous some of the finished dishes appear - so much aspic and gelatine! This really is food as visual spectacle. I scour charity shops for old cookbooks and visit the Cookery Collection archive at Leeds University, as well as listening to podcasts, watching tv programmes, reading articles. I also take a lot of contemporary inspiration from Instagram; I'm interested in the fact that food photography is largely in the hands of non-professionals now. Instagram is full of well-executed, well-styled photographs of food; the general public are much more clued up about styling, lighting and composition. It shows how easily we all relate to visual food culture and how the making of aspirational food images is now a participatory activity.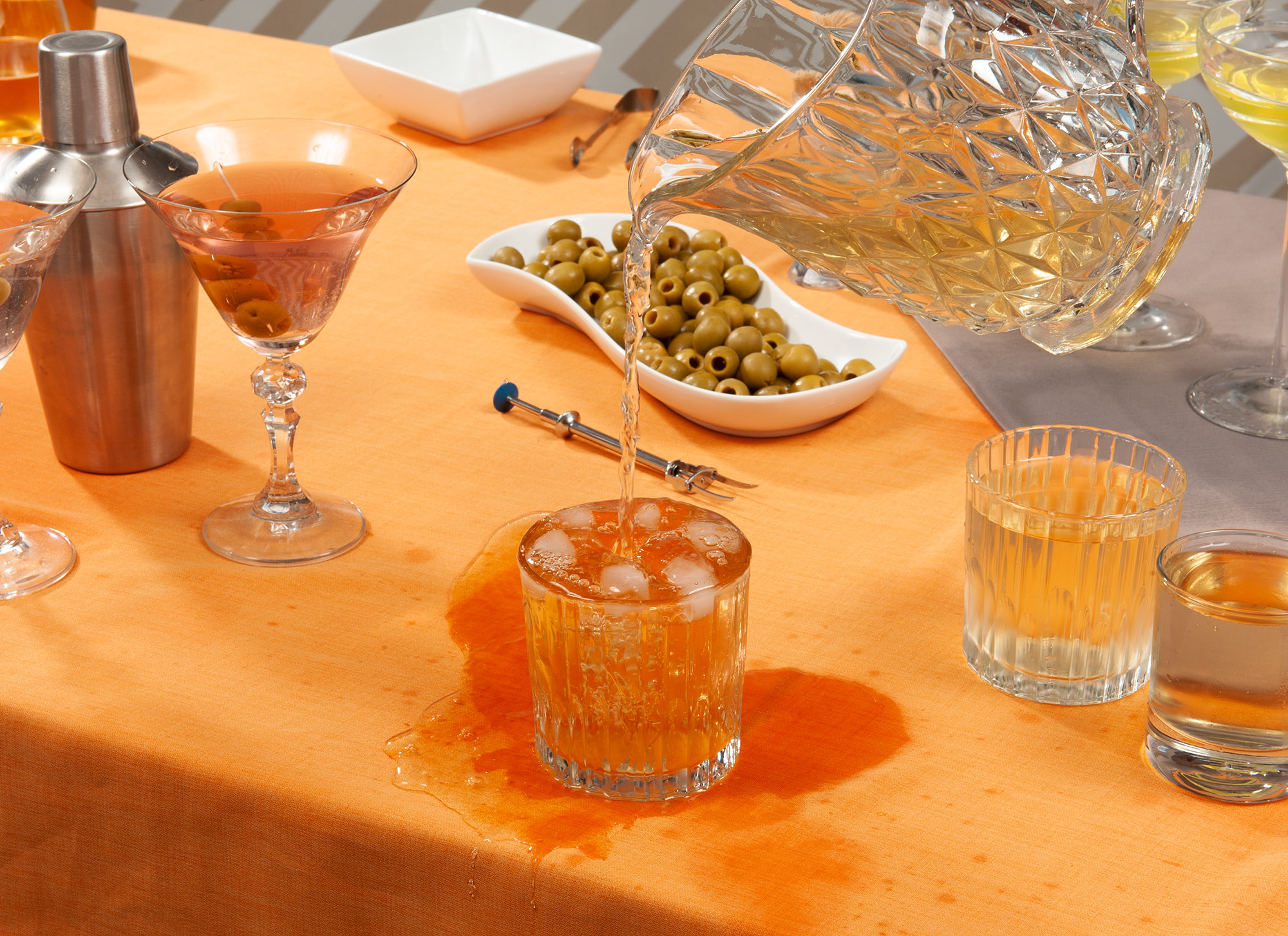 How do you balance your time between being creative and making a living?
Balancing personal work with making a living can be a struggle. For years I worked in a commercial studio and although this provided valuable experience and a regular income, I didn't have much time or inclination to develop my own approach. So I took the plunge and became self-employed in order to have more control over my creative direction. Now I make personal work all the time and probably pursue as many unpaid as paid opportunities. I believe that in general, any exposure is good and you never know who might see your work or where something might lead. So I look for opportunities to put my personal work in front of an audience, as well as working with clients on commissions. I'm pretty brave these days – I'll submit my work to anything I think is interesting. I'm also lucky that I teach part-time at Leeds Arts University, so I have a guaranteed income from that. In the future, as well as continuing to pursue photographic opportunities, I'd like to concentrate on writing too. I recently had a short article selected for an online publication and really enjoyed the process of writing about food photography.
Would you like to highlight any resources/events/organisations that have had a positive influence on your work?
I think it's important to be part of a creative network and I would offer that advice to anyone new to the industry, or anyone who feels stuck in a rut. Creative networks - like Redeye - offer a wealth of knowledge, experience, inspiration, and motivation. I'm Leeds/Bradford based, so I also attend Miniclick Leeds talks and events at Impressions Gallery, Bradford. One positive to the pandemic has been the availability of talks and workshops online and it would be great to see some of these international and national events continue to be so accessible.
See more from Sally:
Website: https://www.sallyrobinsonphotography.co.uk/
Instagram: @sallyrobinsonphoto